One year after opening its doors, Ontario Tech University's new landmark building wins an Urban Design Award from the City of Oshawa.
Officially named in an Indigenous sacred ceremony on June 29, 2021, the five-story, 10,200 square meter (110,000 square foot) building Shawenjigewining Hall at the location of Ontario Tech's Oshawa North Campus serves as a bold new gateway to the university, adjacent to the energy research center and campus library.
Designed as a building to encourage interdisciplinarity, collaboration, experiential teaching and learning and support a sense of discovery, Shawenjigewining Hall offers enhanced academic, administrative and student support spaces, a range of educational spaces, study and lounge, and space for student-run societies and clubs.
The City of Oshawa Awards program celebrates projects that reflect excellence in architecture and urban design and enhance the city's image, livability and quality of life. The awards also recognize contributions from architects, developers and designers. The program is supported by the Ontario Association of Architects, the Ontario Institute of Professional Planners and the Ontario Association of Landscape Architects.
Architectural features
Shawenjigewining Hall's composition of concrete, metal, wood, and stone harmonises with the existing fabric of the university's Oshawa North Campus location. Shaped concrete panels generate an internal exchange between light and shade during the day. The efficient use of floor plan space was developed with flexibility for future adaptability by Architecture Counsel and Montgomery Sisam Architects (designers) and Eastern Construction (designer-builder).
The large double-height pedestrian opening highlights the first two levels. A characteristic staircase connects the activities on the lower level, allowing daylight to penetrate downwards. Acoustically quieter areas on the upper levels house faculty offices, research labs, learning spaces, and quiet study areas.
Operations
Shawenjigewining Hall is home to Ontario Tech's Faculty of Health Sciences, Office of Student Life, Lifelong Learning, and Ontario Tech Student Union. It includes Mukwa's Den, an Indigenous space that provides a home for Indigenous students and a space for all students to connect and learn from Indigenous culture and resources. In addition to classrooms and lecture halls, the building also includes creative spaces and multi-faith prayer spaces.
Naming context
Choosing an Indigenous name for Shawenjigewining Hall reflects the university's commitment to reconciliation and celebrates Indigenous cultures and ways of knowing. The name itself is an Anishinaabe word meaning "the place of kindness". It was determined by Dorothy Taylor, a Mississauga Anishinaabe elder from Curve Lake First Nation and Rick Bourque, traditional knowledge keeper at Ontario Tech.
Exterior image of Shawenjigewining Hall.
">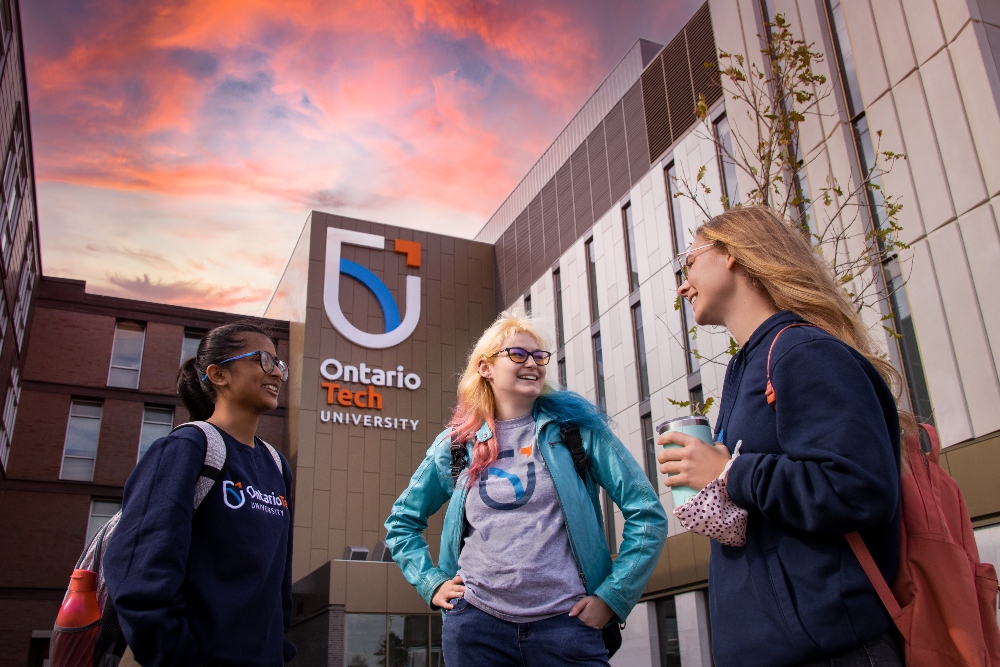 Image of the interior of Shawenjigewining Hall.
">