explore the organic architecture of the cave
The Noguchi Museum presents the work of four Mexican artist-architects in its new exhibition "In Praise of Caves, Organic Architecture Projects from Mexico by Carlos Lazo, Mathias Goeritz, Juan O'Gorman and Javier Senosiain". The exhibit spans multiple galleries in the museum, which has occupied a converted factory building in Long Island City, New York since 1985.
From large urban planning proposals and houses built into the earth, to sculptures large and small — the selected projects each explore the "organic architecture" of Cave. While some of the projects remain unbuilt, many have been impressively designed and are either on display in the gallery or exist as an otherworldly work of underground architecture in Mexico.
Together, the collection transforms interiors into a cavernous landscape, like a "metaphor for contemplating and reassessing our place in the world". Ahead of the opening last week, designboom visited the Noguchi Museum to explore the exhibition curated by Dakin Hart, which will run until February 26, 2022.
Juan O'Gormanmodel of O'Gorman Cave-Studio House(1948–54, partially destroyed c. 1969), 2021–22
created by Senosiain Arquitectos | coordinator: Enrique Cabrera Espinosa de los Monteros
reconnect to the earth
The artists honored during the exhibition of the Noguchi Museum'Praise of the caves…' worked independently of each other throughout the mid-twentieth century. Although this investigation of cavernous environments is not an artistic or architectural movement, Mathias Goeritz, Juan O'Gorman, Javier Senosiain and Carlos Lazo together shared common themes and threads of values.
These common interests emerged alongside the conclusion of World War II, particularly after the dropping of the atomic bombs. 'All mankind has somehow had a mental shift,' explained Hart, 'we had severed our connection with nature. As soon as we have the power to destroy everything, it changes our power dynamic with Mother Nature, and these architects and artists were interested in fixing that breach..'
Against the backdrop of Mexico City and its surrounding landscape, architects sought to construct in the earth, rather than just above it. With this type of earthen architecture, the built space is shaped by rocks and trees, burrowing around the still elements to form complex subterranean interiors. The strategy aimed to reintroduce a respect for the land, a philosophy that is just as relevant today.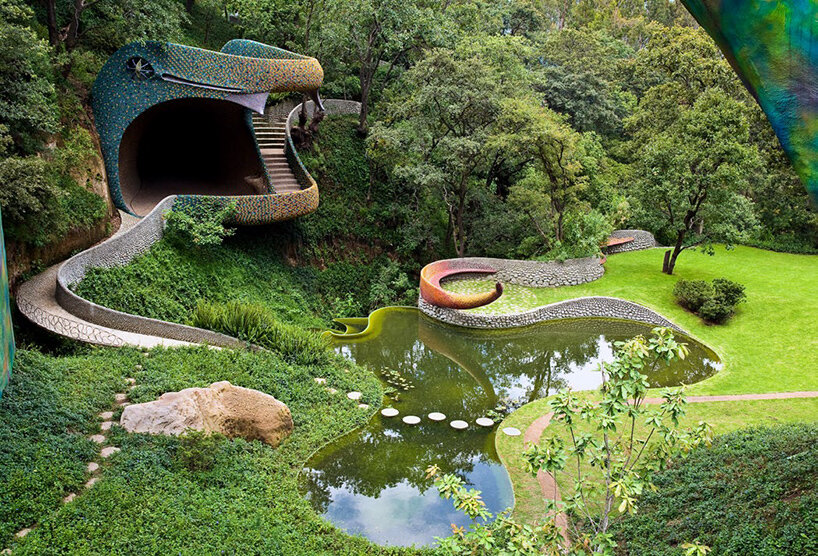 Javier Senosian, El Nido of QuetzalcoatlNaucalpan, Mexico, 1998–2007
image © Javier Senosiain / Arquitectura Organica
snake sculptures and snake-like spaces
The imagery of snakes is a common motif among the works featured in the Noguchi Museum's "In Praise of Caves…" exhibition. Hart explains the importance of serpents in a collection of works exploring the cave: 'Snakes are the ones that move between. They are like our ambassadors on Earth, our ambassadors in hell.'
Like an ambassador for the exhibition, a massive sculptural work of Mathias Goeritz title, The Serpent of El Eco (El Eco Serpent), 1953, welcomes visitors, rising sixteen feet in the high front gallery. Smaller, experimental iterations occupy the next room, scattered among Noguchi's sculptures that rise from the gallery floor like stalagmites.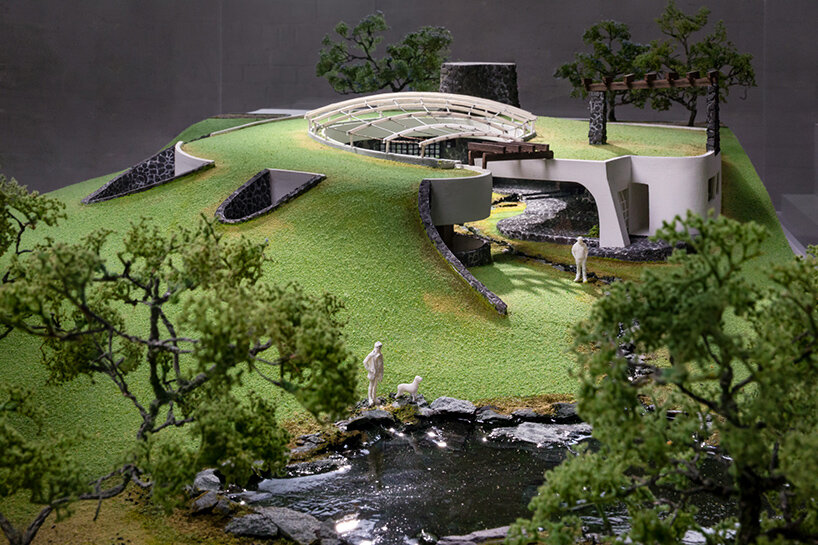 Carlos Lazocarlos lazo model Casa-Cueva project of the Atomic Era (1948), 2021–22
created by Javier Senosiain, Arquitectura Orgánica and María Fernanda Zarate Espinosa | Courtesy Javier Senosiain
all images by Nicholas Knight © The Noguchi Museum / ARS
underground, conceptual and built spaces
The exhibition presents a collection of impressive physical models representing cavernous works of architecture from Juan O'Gorman, Javier Senosian, and Carlos Lazo.
The O'Gorman Cave-Studio House was completed in 1954 and served as the residence of Juan O'Gorman, a Mexico City-based architect known for building the studios of Diego Rivera and Frida Kahlo. After mastering the modernist style of glass and steel, he rejected rational, inorganic practice and instead became a passionate advocate of organic architecture. Its subterranean dwelling is embedded in lava rock, negotiating between the natural contours of the landscape.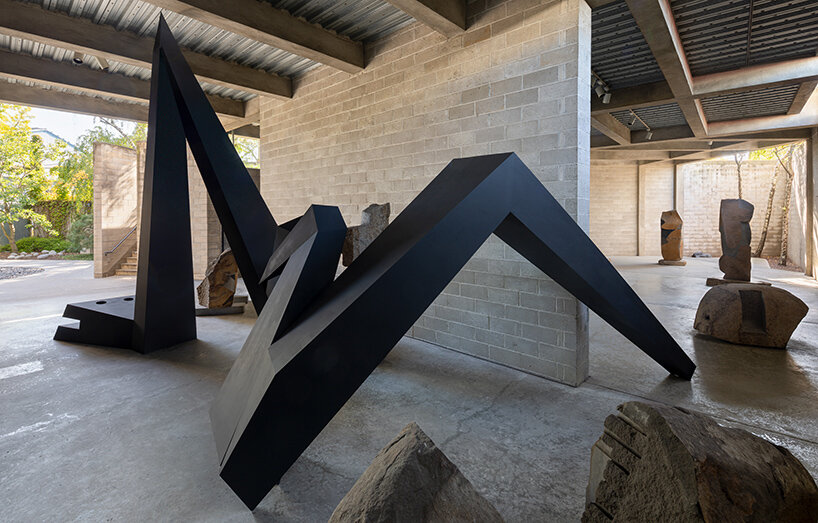 Mathias Goeritz, The Serpent of El Eco (El Eco Serpent), 1953; exhibition copy manufactured 2022
Another building project existing today in Mexico City is Javier Senosianit is El Nido of Quetzalcoatl (The Nest of Quetzalcoatl), 1998–2007. The vast work is presented as a theme park of organic architecture still in development. The architect's interest in organic construction, which he does mainly in coffered concrete, extends to a wide range of models and systems modeled on nature. What they all share in common is the quality of emerging from the earth and/or nesting in it.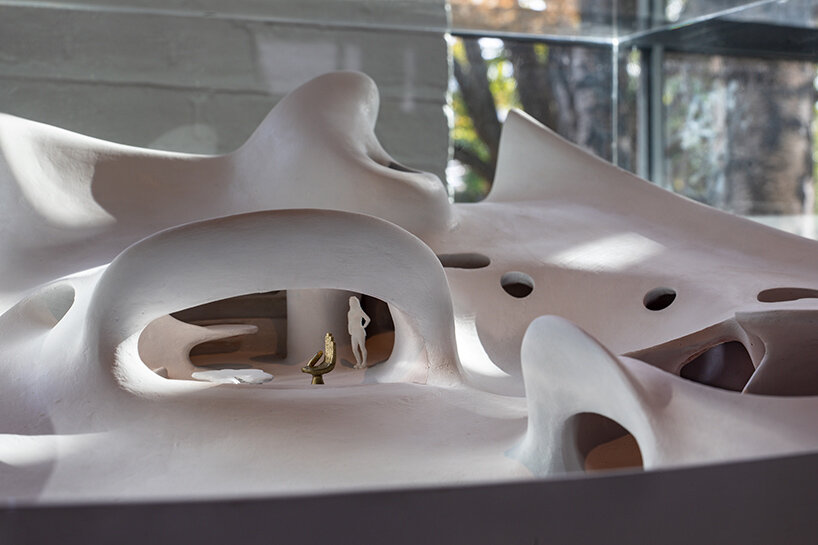 Javier Senosiain Aguilar, Model for Casa Organica, Mexico City (1985), 1984
Made by Enrique Cabrera Espinosa de los Monteros
Courtesy of Javier Senosiain / Arquitectura Organica
A work of unbuilt underground architecture presents Carlos Lazo's ideas about life in caves. The Casa-Cueva of the Atomic Era (Atomic Age Cave House), 1945–48, is presented as a newly constructed physical model. The hypermodern cave house is described as a "synthesis of the Flintstones and the Jetsons". It is accompanied by an exhibition of images of Lazo's other efforts to bring modern life back to the future in his Cuevas Civilizadas (Civilized Caves) project, which was to include 110 homes carved into a canyon wall in the Belén de las neighborhood. Flores de Mexico.