flower house by NO ARCHITECTURE
New York studio NO ARCHITECTURE designed 'Flower House', a weekend getaway to Massachusetts bring family members closer to each other and to nature. Perched on the scenic landscape of the Berkshires, the final composition is organized into six interlocking pavilions around an open central hexagonal courtyard. From a bird's eye view, the lodging looks like the outline of a flower, hence the name of the project.
Taking references from modern glass houses and indigenous terrain, the project presents itself with clear geometries dominated by generous amounts of glazing. The resulting layout lets the interior flood with natural light, while maximizing passive heating and cooling, solar access and natural ventilation, providing comfort for the rituals of daily life. "The project reinterprets and develops the typology of the glass house through its dynamic relationship with the indigenous landscape and a plan configuration that organizes the six nested pavilions in "petals" around an open central courtyard", share the architects. all images ©NO ARCHITECTURE unless otherwise noted
blur the lines between inside and outside
Founded by architect Andrew Heid, NO ARCHITECTURE (see more here) completed the holiday home partially dug into a hill. The project is strategically oriented to optimize the different sun exposures and provide a clear division between public and private spaces.
Given the general calm atmosphere evoked by the humble neighboring structures and the property's lush landscaping, the architects sought to make the most of the views. Thus, various openings from different directions fill the interior with natural light and views, and adequate ventilation circulates through the spaces. Uphill to the west, clerestory windows illuminate the bedrooms and bathrooms. Descending to the east, one encounters the public programs, including the kitchen, living room and dining room, while floor-to-ceiling windows blur the boundaries between the exterior and interior of the Flower House.
Cantilever roof awnings provide weather protection, passive indoor shading, and a dramatic frame that widens the transition from indoors to outdoors. The central hexagonal courtyard catches summer breezes and winter sun, giving off a welcoming and lively atmosphere for the interior. 'Structurally, each pavilion functions as a Miesian umbrella diagram – a canopy open on all sides – with an exposed concrete slab on the ground below.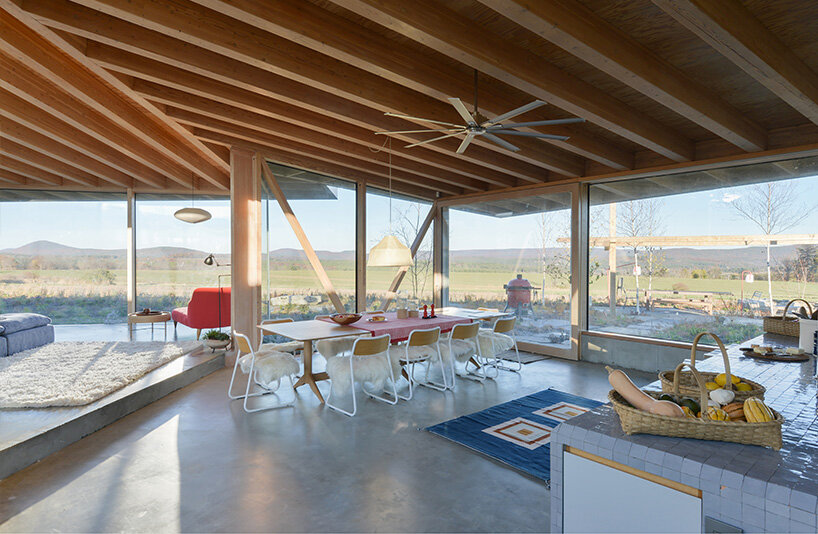 the living room enjoys direct views in all directions
Throughout the interior, the team avoided the use of columns in order to achieve freedom of movement and unobstructed lines of sight. The structure is supported vertically by load-bearing window frames and stabilized laterally by T- and L-shaped cores that conceal shear walls. "By consolidating bathroom, storage and mechanics within these structural cores, the project maximizes usable space and minimizes pocketing."
When it comes to materiality, the architects fashioned the interior with a warm palette of warm colors. Wooden accents in combination with a concrete floor and large amounts of glazing complete the interior. The team avoided excessive decoration, letting the scenic landscape spill over into the spaces and do the talking.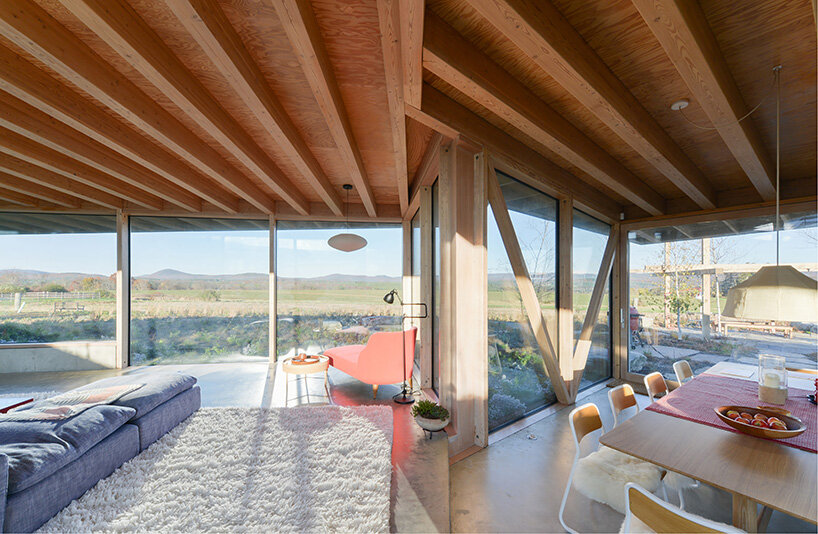 the resulting design gives the spaces an honest comfort and a sweetness of life