You could well get acquainted with the witty and carefully executed work of Melbourne-based architectural firm Wowowa Architecture. Led by directors Monique and Scott Woodward, the practice has grown steadily since its inception in 2010 and now comprises a team of 14, working on its assertive collection of residential work as well as a growing number of educational and public. Based in Collingwood, on the unceded lands of the Wurundjeri Woi Wurring people of the Kulin Nation, the firm recently established a presence in Perth, on the unceded lands of the Whadjuk Noongar people.
There's a brilliant, incredibly cool edge to everything Wowowa touches. Often described as "playful" and "daring", their works are almost always recognizable, without ever being part of a singular architectural style. Think of it less as a look and more as a feeling of joyful exuberance. Wowowa's effect on the home space is like taking a set of highlighters from a textbook: things look sharper, words jump out and colors collide, forming new patterns and meanings on paragraphs of existing prose. At the same time, it's important not to confuse Wowowa's joviality with a lack of seriousness. Much has been written over the years about the firm's penchant for bold palettes and whimsy, but equally fundamental to the firm's ethos is its commitment to client relationships, sustainability and social justice. Certified B Corp practice aligns with personal, memorable and valued spaces. Additionally, he actively resists the immediacy and potential wastefulness of the speculative real estate market by choosing to work with residential clients who intend to live in their new home for at least five years.
In part, the freshness of Wowowa's work comes from the fact that the practice seems completely indifferent to shaping its work too closely around the current moment. As Monique says, "We aim to be timeless, to always be out of trend", and this timelessness – or perhaps, more accurately, a deep interest in time – is woven into the practice's vision and approach. from Wowowa.
Wowowa's residential designs are framed by their relationship to the past, present and future, spanning the ages with apparent ease. A deep appreciation of history and context provides a coherent and fertile starting point for much of the practice's work. As Monique says, "We're interested in sprucing up and responding to existing material. That's why we love renovations so much – there's always some sort of benchmark to compare and contrast with. This fascination with unraveling a narrative idea from the existing fabric of a site begins to explain the intriguing association made between marine crustaceans and the staggered brown and gold brick patterns that characterize Victorian terraced houses. Tiger prawn (2018, see Houses 122), an irreverently named addition to one of these heritage terraces at Fitzroy North on the lands of Wurundjeri Woi Wurrung, adapts this brick pattern to an architectural form and is an early example of the type of scalloped shapes that became a regular riff in Wowowa's work. The project extends both the back of the house and with it the shrimp metaphor, through the use of raw (unfired) gray cinder blocks.
Even when designing a new home, Wowowa finds a way to incorporate the existing street and suburban language into the design, alongside a plethora of reference points that combine to generate an abundance of significant superimposed elements and forms. At Merri Creek (2019, see Houses 132), turrets and silos in various stages of conceptual ruin are combined with Art Deco hints taken from neighboring houses. Dusty pinks capture the warmth of the house's extensive brickwork, with hints of blue within showing the confident use of color that Wowowa has continued to develop.
Wowowa's ability to work with existing conditions was again on full display with the completion of Pony in Brighton East on Boon Wurrung land in 2020 (see Houses 139). A renovation for a family of six, Pony retains the apricot brick structure of the existing mid-century home largely intact, adding only a modest amount of new floor space to the rear of the site while filling the interiors of the project with a series of delightfully bold colors and finishes.
The practice's interest in the iterative development of types and categories has resulted in a set of recurring motifs across his residential work. Ponds (2021), a renovation of an Art Deco-era house affectionately dubbed the "freshwater yabby", reconsiders Tiger Prawn's brick logic, while exploring new geometries and possibilities.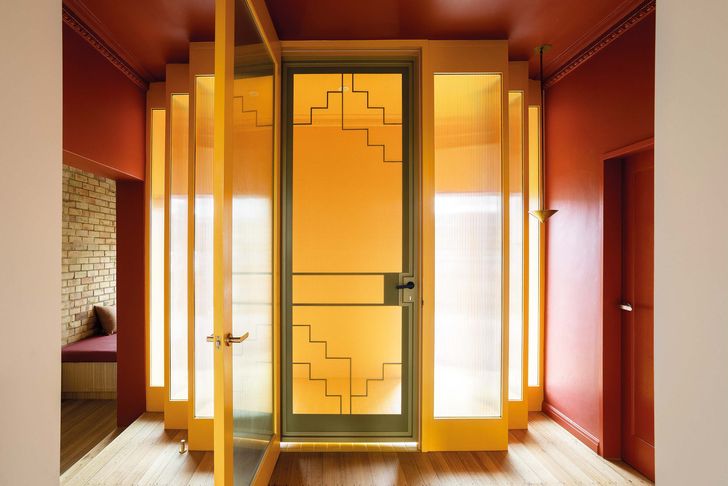 In Wowowa fashion, Ponds is underscored by layered meanings. The yabby, along with the shrimp and Deco turrets in front of it, collides with Italian Baroque – a gloriously theatrical 17th-century architectural style – as part of the firm's Borromini series, a line of research that brings these projects into conversation. with the undulating edges and sculptural scoops of projects such as Francesco Borromini's San Carlo alle Quattro Fontane in Rome.
The Borromini series chronicles Wowowa's fascination and respect for stories and layered embellishments. In Hermon (2021, on the grounds of Wurundjeri Woi Wurrung), the firm has completed an ambitious renovation of a renovation that leaves the original house largely untouched. Alterations and additions play with the most recent sections of the Federation Revival house, combining Wowowa's signature curves and cuts with soft fabric panels that seem to dance beneath a floating yet full canopy.
It's not hard to see the influence of Edmond and Corrigan on Wowowa's work and thought – and perhaps not surprisingly that Monique cites her time studying with Peter Corrigan at RMIT as a particularly formative experience. , often returning to her call for "more ideas and less refinement" in the early stages of the design process. Likewise, however, Wowowa understands exactly who they are. more fluid place in history just demands that you do your best and don't look sideways. You are who you are and you do what feels right." This, in turn, means the firm relishes the opportunity to develop the same level of customer awareness: "We really go deeper into who our customers are and that's really the fun – it makes our job more challenging, but also more rewarding."
Look closely at some of the images and documents produced by Wowowa and you might find what appears to be a bright pink two-faced kangaroo. "Janus Roous", half logo, half Rorschach test, calmly looks at the past and the future. If this roo is named after Janus, the Roman god of beginnings and endings, duality and passing time, then its existence is another indication that, much like the work of the practice, there is much to unpack. if you stay long enough. Reflecting on the dualities of the practice, Monique puts it best: "We try to sit in that middle position, because we get a lot of pleasure out of interpreting the references we like in a way that is legible and readable to the client. You can be both. You can be Janus Roous, looking in two directions at once. The "both" is where the freshness comes from. You can be a thought leader, but you can also really love tiles. For us, everything is an "and" conversation, not an "or".