'cabin' by upstate modernist s3+ architecture
Perched on a forest cliff in Rhinebeck, New York, 'Cabana' is a modernist woodland retreat run by WE-based on S3 Architecture and Upstate Modernist practices. Described as 'the perfect cantilever respite,' the 18.6 m² structure effortlessly combines rustic materials with masculine, minimalist interiors.
The cabin sits on the edge of the cliff, supported by glulam beams attached to footings pinned to natural rock. The subtle slope of the roofline reflects the natural topography and creates interior drama. Meanwhile, the porch overhang features cutouts offering panoramic views of the sky from this wooded gazebo.
all photos © Ethan Abitz
combining rustic and discreet finishes
For the exterior, S3 Architecture (see more here) and Upstate Modernist (and here) clad the "Cabana" in black stained cedar with natural light vertical grain cedar accents in counterpoint and black wattle decking, blending seamlessly into the natural landscape. The facades in dark tones are complemented by numerous glazings that bring the outside in.
As for the interiors, the high ceilings are associated with rustic and discreet finishes, echoing the forest context. The rough sawn and UV-oiled white oak wood flooring lends warmth and character, while the porcelain stoneware tiling extends the wood theme to the entryway and bathroom. A cushioned bench seat with shoe racks is the perfect place to kick off muddy boots after an afternoon on the trails, and custom felled hemlock millwork sits in the bathroom vanity and bedroom furniture. bedroom.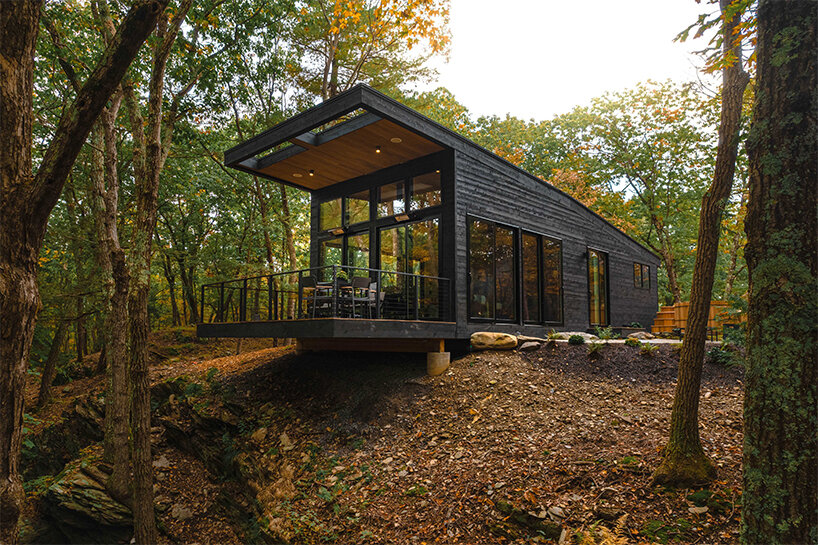 a cantilevered modernist structure by S3 Architecture and Upstate Modernist
bring the charm of the forest indoors
The kitchen looks like a bar with sink but is very functional with drawers for fridge, freezer and dishwasher, a Miele speed oven supporting both microwave and convection cooking, and just enough storage. Custom oiled white oak shelving balances out Reform CPH black linoleum-covered oak cabinetry that blends seamlessly with the porcelain Metaline tiles of the backsplash and wraps around to form the firewood storage compartment.
Finally, the "open concept" bathroom exudes a forest spa vibe with consistent hues of porcelain tile throughout all surfaces with the custom hemlock vanity. 'Shower inside or outside to soak up the natural surroundings,' adds the team.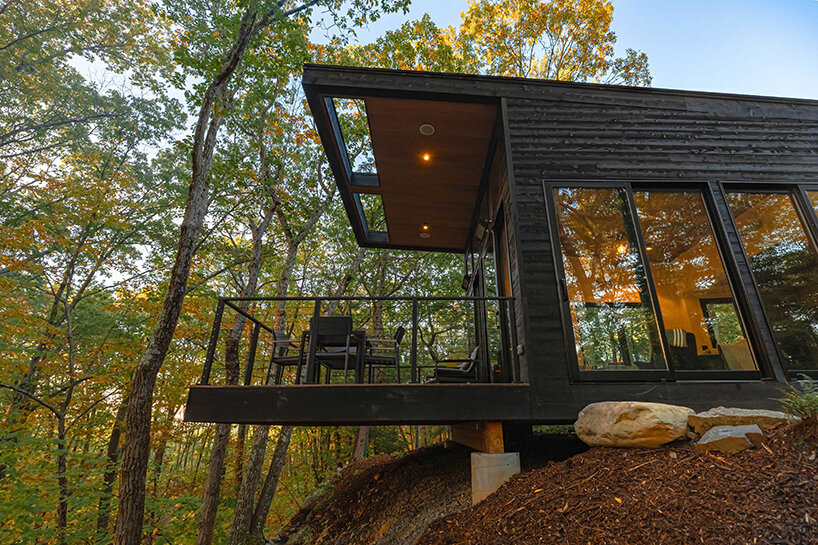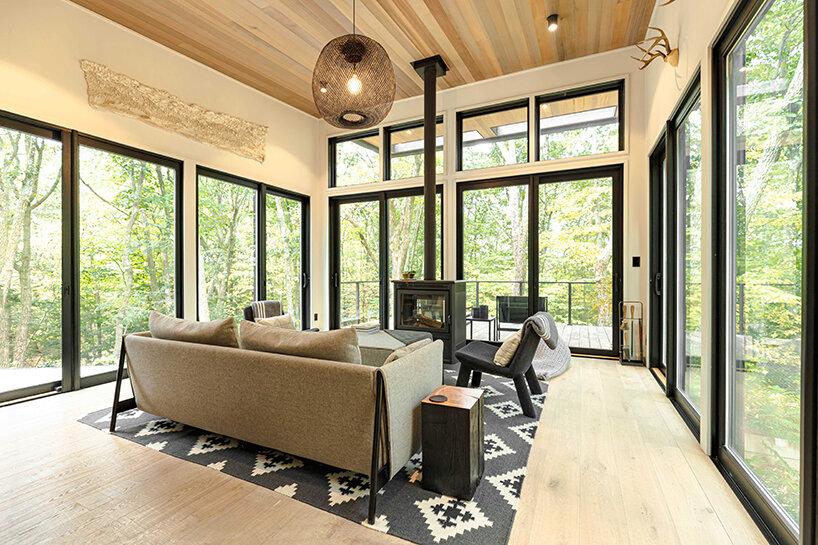 many glazing bringing the outside in