In the exhibition At Te Herenga Waka, Victoria University of Wellington, visitors will see and experience immersive, interactive, virtual and mixed realities created by researchers, designers, scientists and artists from across Aotearoa New Zealand. This first physical exhibition of Ars Electronica Garden Aotearoa presents about fifteen installations as well as performances, demonstrations and conferences.
Facilities at the University of Auckland include LightSense, a collaboration between the arc/sec Lab, the Augmented Human Lab and the Empathic Computing Lab at the Auckland Bioengineering Institute (ABI), and the Faculty's New Dexterity Group of engineering from the University.
In this, a large-scale (12m x 3m) kinetic light structure is combined with holographic digital animations and an integrated AI system that has been trained with 60,000 poems to lead and maintain conversations with visitors. It then responds to the emotional content of the conversation by changing form, immersing visitors in pavilions of love, anger, curiosity and joy.
The XR Tumor Project, meanwhile, immerses visitors in the data of a cancer patient in an interactive extended reality (XR) setting, an "arena" that combines physical architecture with digital clinical information.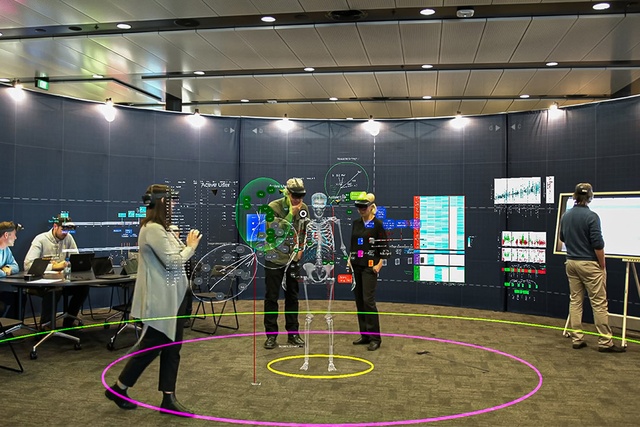 Maritime_Trace_Exposure is also featured in Garden Aotearoa, an interactive narrative by artist group An Architecture of the Sea, co-founded by Dr Mizuho Nishioka and Tane Moleta of Wellington School of Architecture and Design Innovation, who co-create with research and experienced colleagues. artists Wayne Barrar and Dr. Kerry Hines.
Maritime_Trace_Exposure uses photography, poetry and virtual space to create maritime space through simulations and imaginative technologies. Part of the work examines both real and artificial fish scales and challenges the concepts of "real" and "virtual", while another combines subterranean landform data and streaming weather models to create a new virtual landscape.
Find out more about the schedule of events at Ars Electronica Garden Aotearoa 2022, June 16-22 at Herenga Waka, Victoria University of Wellington.